Fashion isn't just about looking good, it's about making a statement and expressing your unique style. And when it comes to men's clothing, printed shirts are the perfect canvas for showcasing your personality. But that's not all – there's more to it than meets the eye! In today's fashion landscape, sustainability is the name of the game, and while sustainability is usually associated with earthy tones and plain shirts, it's time to change that misconception. So, if you're on the lookout for eco-friendly and trendy clothing options, you've come to the right place. In this blog post, we'll dive into the world of printed shirts for men, exploring their versatility, trendiness, and how they align with sustainable fashion – a winning combo that's sure to elevate your style while keeping Mother Earth in mind!
A Brief History of Printed Shirts for Men
Printed shirts for men have come a long way in terms of history and evolution. Back in the day, shirts were plain and monotonous, with simple patterns and limited designs. However, as fashion has evolved, printed shirts have gained popularity as a way to express individual style.
In recent years, printed shirts have become a prominent fashion statement, with influencers, celebrities, and even fictional characters sporting them. For example, actor Brad Pitt's printed shirts in every nihilist's favourite movie Fight Club which sparked not just a philosophical trend, but also a fashion one. Additionally, the iconic character of Jeff "The Dude" Lebowski in the movie "The Big Lebowski" is known for his laid-back style, often seen wearing printed bowling shirts that have become a symbol of his carefree attitude.  Actor Ranbir Kapoor was spotted wearing a floral printed shirt in the movie "Yeh Jawaani Hai Deewani," reflecting his movie personality perfectly.
Cultural influences have also played a role in the popularity of printed shirts. For instance, the Hawaiian shirt, also known as the "Aloha shirt," originated in Hawaii in the 1930s and gained popularity among tourists as a souvenir item. African tribal prints, Aztec patterns, and Japanese motifs have all found their way onto modern printed shirts, adding a sense of global fashion and cultural appreciation.
These unique prints have become a way to express their personal style while paying homage to different cultures and traditions. Furthermore, the rise of streetwear brands in India and elsewhere has also contributed to the popularity of printed shirts, with brands incorporating bold graphics, pop culture references, and unique designs to cater to the modern fashion-forward man.
Types of Prints
Printed shirts for men offer a plethora of options when it comes to expressing one's individuality. Here are some popular types of prints commonly used on men's shirts:
Floral Prints: Timeless and versatile, floral prints add freshness and charm to any outfit. They come in various colors, sizes, and styles, making them ideal for both casual and formal looks.
Geometric Prints: Modern and bold, geometric prints feature abstract shapes and patterns. They are often used in contemporary and minimalist fashion styles, adding a sleek and edgy vibe to a look.
Abstract Prints: Artistic and unique, abstract prints feature non-representational patterns and designs. They can add a touch of creativity and artistic flair to any outfit.
Animal Prints: Adventurous and exotic, animal prints mimic the skin or fur of animals like leopard, zebra, or snake. They can be bold and eye-catching, adding a touch of wildness and style to a look.
Graphic Prints: Bold and expressive, graphic prints feature images, illustrations, or slogans. They can be playful, humorous, or political, making them a great option for showcasing interests, beliefs, or sense of humor through clothing.
Styling Tips for Printed Shirts
Printed shirts are all about expressing your unique style, but nailing the perfect look can require some finesse. Here are some witty and practical tips to help you rock your printed shirts with confidence:
Choose the Right Fit, Fabric, and Color: The fit of your printed shirt is crucial for a polished look. Opt for a size that fits well and flatters your body shape. Additionally, choose high-quality fabrics that feel comfortable and breathe well. When it comes to colors, consider your personal style. Neutral colors like white, navy, or black can serve as a solid foundation for bold prints, while complementary colors can create a harmonious and cohesive look.
Mix and Match with Purpose: Layering is your secret weapon when it comes to adding depth and dimension to your outfit. Experiment with different combinations, such as pairing a floral printed shirt with a denim jacket for a casual yet trendy vibe, or a graphic printed shirt under a tailored blazer for a dapper look. Just make sure to balance your prints and solids to avoid overwhelming your outfit!
Play with Bottoms and Accessories: Don't forget about the power of bottoms and accessories to complete your look. Jeans, chinos, or shorts can be great options to pair with your printed shirt, depending on the occasion and your personal style. Add statement accessories like a watch, bracelet, or sunglasses to elevate your overall style and make a statement!
Embrace the Versatility: Printed shirts are not limited to a particular style or occasion. Get creative and dress them up or down as per your mood and the vibe you want to achieve. Try rolling up the sleeves for a casual and relaxed look, or tucking in your shirt for a more polished and sophisticated appearance. The key is to embrace the versatility of printed shirts and make them work for you!
Show Your Sustainable Swag: Did you know that you can rock printed shirts while also being environmentally conscious? Look for brands that use sustainable materials, organic dyes, or recycled fabrics in their printed shirts. By supporting sustainable fashion, you can make a positive impact on the environment and showcase your style with eco-friendly swag!
Choosing the Right Print for the Occasion: From Casual to Formal
Printed shirts come in a variety of prints, each with its own style and vibe. Here are some tips on which prints work best for different occasions:
Casual Occasions: For a laid-back and casual look, opt for fun and playful prints like floral, geometric, or abstract. These prints are perfect for beach outings, picnics, or brunches with friends. Pair them with shorts, jeans, or chinos for a relaxed and effortlessly cool vibe. Add some flip-flops or sneakers to complete the casual ensemble.
Summer Parties: When it's time to hit the summer party circuit, go for bold and vibrant prints like animal or graphic prints. These prints can add a pop of personality and style to your outfit, making you the life of the party. Pair them with white or light-colored bottoms, such as shorts or chinos, and some statement sandals or loafers to amp up your summer party look.
Work or Business Events: While printed shirts may not be the typical choice for formal settings, you can still rock them in a sophisticated way. Opt for subtle and understated prints like micro prints, stripes, or polka dots. Choose muted or neutral colors, and pair them with tailored trousers, blazers, and dress shoes for a polished and professional appearance. Pro tip: Throw a blazer on a loud print for a fun, yet work appropriate look.
Festive Occasions: Printed shirts can also be a great choice for festive occasions like weddings, family gatherings, or holiday parties. Consider festive prints like ethnic or Indian prints, which can add a touch of cultural flair to your outfit. Pair them with solid-colored bottoms, such as tailored trousers or churidar pants, and complete the look with ethnic footwear like juttis or mojaris for a stylish and traditional vibe.
Date Nights or Nightlife: When you're dressing to impress for a date night or a night out, go for bold and eye-catching prints like abstract or graphic prints. These prints can help you stand out from the crowd and make a fashionable statement. Pair them with dark-colored jeans or trousers, and dress shoes or boots for a trendy and stylish look. Add some accessories like a statement watch or a bracelet to complete your night-time ensemble.
Remember, these are just guidelines, and you can always experiment and create your own unique style by mixing and matching prints according to your personal taste and the occasion. You only live once, so why waste it on boring shirts?
Popular Brands for Printed Shirts: Our Top 4 Favourites
When it comes to printed shirts for men, why settle for the ordinary when you can embrace the extraordinary? These brands are known for their out-of-the-box approach to printed shirts, offering styles that are anything but run-of-the-mill:
Clime Scene
When it comes to sustainable fashion, Clime Scene is a brand that's redefining what eco-friendly clothing can look like. With bold and creative prints, Clime Scene offers men's shirts that are not only environmentally conscious but are also bound to turn heads and spark conversations wherever you go. Inspired by nature and cultural contexts, these prints are a celebration of individuality and expression. From quirky patterns to vibrant colors, these shirts are perfect for those who dare to be different and want to make a statement with their style.
Bhaane
When traditional Indian prints meet contemporary silhouettes, the result is Bhaane's printed shirts. Blending the Indian culture with modern design sensibilities, Bhaane offers a sophisticated take on printed shirts for men. Their prints are carefully curated to exude a sense of understated elegance, making them suitable for both casual and formal occasions.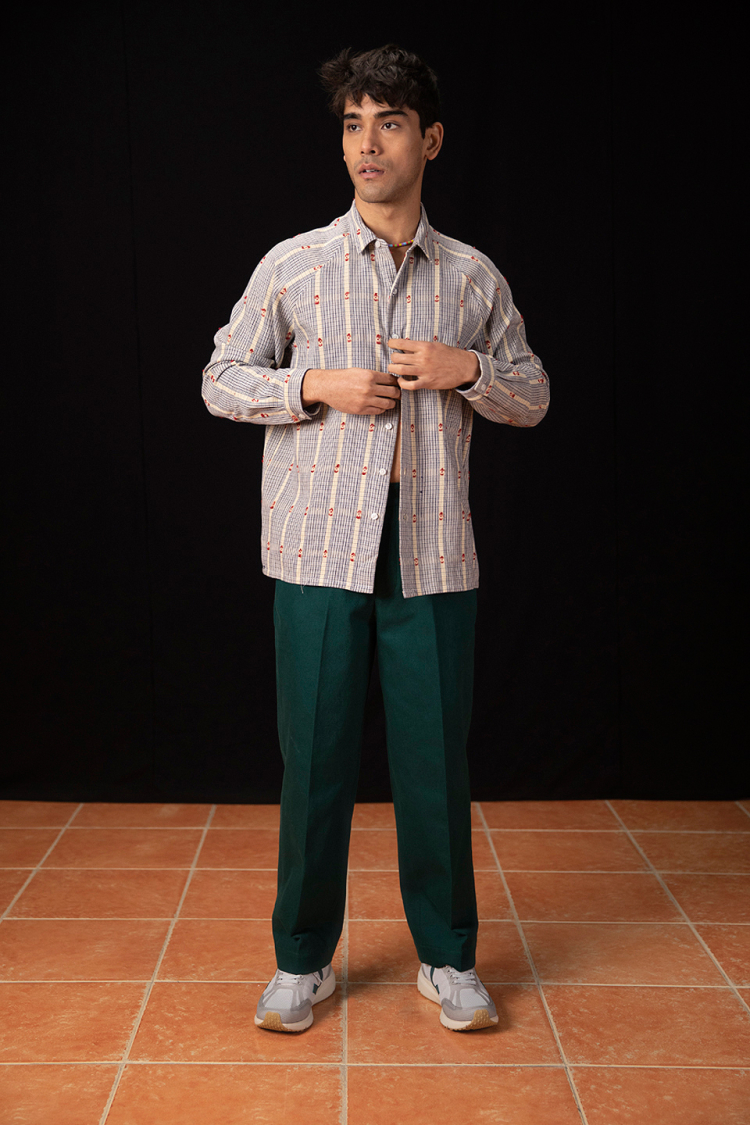 Doh Tak Keh
If you're looking for unconventional and playful prints, Doh Tak Keh is a brand that's sure to catch your attention. With their quirky and imaginative designs, they offer printed shirts that are a perfect blend of creativity and style. From bold graphics to whimsical illustrations, their prints are meant to stand out and make a statement. Their shirts are perfect for the fashion-forward individual who loves to experiment with unique and eye-catching prints.
Dhruv Kapoor 
If you're a fashion maverick who craves avant-garde styles, Dhruv Kapoor's printed shirts are the epitome of artistic expression.  With their avant-garde designs and unconventional prints, their shirts are for those who never shy away from making a bold fashion statement.
When it comes to printed shirts, these brands go beyond the ordinary, offering styles that are daring, unique, and full of personality. Say goodbye to mundane prints and hello to a world of unconventional designs that let you express your individuality in the best way possible!
Care and Maintenance of Printed Shirts: Keeping Your Prints Popping!
Taking care of your printed shirts is like taking care of a masterpiece on fabric canvas. To keep your prints looking fresh and vibrant, here are some witty tips:
Decode the care labels: Think of care labels as secret codes for washing success. Crack the code and follow the instructions to keep your prints in top-notch condition. It's like a quest for the perfect wash!
Gentle is the way: Treat your printed shirts with tender loving care. Opt for a gentle cycle with cold or lukewarm water to keep the colors and prints intact. Avoid any harsh detergents that could dull the shine of your shirt's swagger.
Fabric flair: Different fabrics have different needs. From smooth cotton to suave silk, each fabric requires its own TLC. Delicate fabrics like silk will likely need to be hand washed. Read up on the care instructions specific to your shirt's fabric, and keep your shirts around for a long, long time.
Hang it out to dry: Let your prints bask in the breeze! Air drying is the way to go to preserve your printed shirts. Hang them on a clothesline and let them air dry naturally to avoid fraying, colour fading or shrinkage.
Iron with charm: Ironing can be a chore, but it's worth it to keep your prints looking sharp. Turn your shirt inside out and use a low heat setting to iron the backside of the print.
By following these care and maintenance tips, you can help ensure that your printed shirts stay fresh and vibrant for years to come, maintaining their original quality and appeal.
Printed shirts for men are not just a passing fashion trend; they are a timeless style statement that adds personality and flair to any wardrobe. From the roots of history to the modern fashion landscape, printed shirts have come a long way and continue to evolve with ever-changing trends.
So, why wait? It's time to unleash your fashion creativity and embrace the power of printed shirts! Experiment with different styles, express your unique personality, and make a fashion statement that turns heads. 
With the right care and styling, your printed shirts will be your go-to fashion staple, exuding sophistication and charm. So, go ahead, step into the world of printed shirts, and make heads turn.